Booknesses: Artists' Books from the Jack Ginsberg Collection - digital books
Lidantiu Faram [Lidantiu as a Beacon (Le-Dantyu as a Beacon)] - Ilia Zdanevich (Iliazd), Naum Granovskii (cover)
La Fin du Monde filmee par lAnge N.-D. - Fernand Leger (illustrator) , Blaise Cendrars (text)
Un Coup de Des Jamais Nabolira le Hasard: Poeme - Stephane Mallarme
Paris de Nuit - Brassai (photography), Paul Morand (text)
Dlya Golosa [For the Voice or For Reading Out Loud] - El Lissitzky (illustrator), Vladimir Mayakovsky (poems)
Die Nibelungen Dem Deutschen Volke Wiedererzahlt von Franz Keim - Carl Otto Czeschka (designer and illustrator), Franz Keim (text)
Une Semaine de Bonte ou Les Sept Elements Capitaux (Roman) - Max Ernst
Depero Futurista 1913-1927 - Fortunato Depero & Fedele Azari
Fizzles (Foirades) - Jasper Johns (etchings), Samuel Beckett (author)
Un Coup de Des Jamais Nabolira le Hasard: Image - Marcel Broodthaers (book artist), Stephane Mallarme (based upon)
The Departure of the Argonaut - Francesco Clemente (illustrator), Alberto Savinio (text
Doc / Undoc Documentado / Undocumented. Ars Shamanica Performatica - Felicia Rice (book artist), Guillermo Gomez-Pena (text)
Innerland - Timothy C. Ely
After Image Playing with Colour in all its Dimensions - Claudia Cohen & Barbara Hodgson
Ockers - Mike Hudson (book artist), Jadwiga Jarvis (printed)
Britain in Colour with Belligerent Rock Intrusions mainly in Black and White - David Ferry (book artist), R. M. Lockley (original author)
Portage - William Kentridge
Cathexis - Paul Emmanuel
Frantichams Los Angeles Palm Trees - Franticham, Francis van Maele & Antic-Ham
26 57,3' N, 142 16,8' E [The Squid Book] - Veronika Schapers, Durs Grunbein (poems by), Yuji Nawata (translator)
Raising Water - Sjoerd Hofstra & Karen O'Hearn
The Mappist - Charles Hobson (images), Barry Holstun Lopez (text)
Cold Sweat The Graphic Works - Chris Diedericks
Curiosity - Lyndi Sales
Cent Mille Petits Points - Mauro Bellei
Temp Worker - Fred Rinne
The Ultimate Safari - Nadine Gordimer (author), Aletah Masuku (illustrator), Alsetah Manthosi (illustrator), Dorah Ngomane (illustrator), Mark Attwood (printer)
Another George Book - A User's Guide - Joan Iversen Goswell
Board of Honour - Mikhail Karasik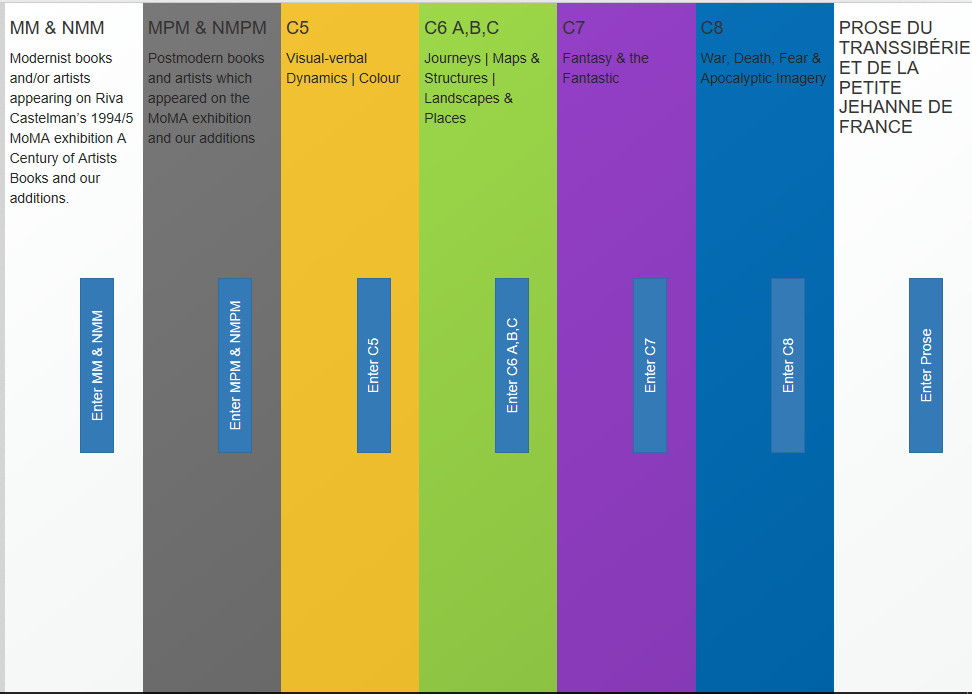 Website: www.theartistsbook.org.za/booknesses/digital_books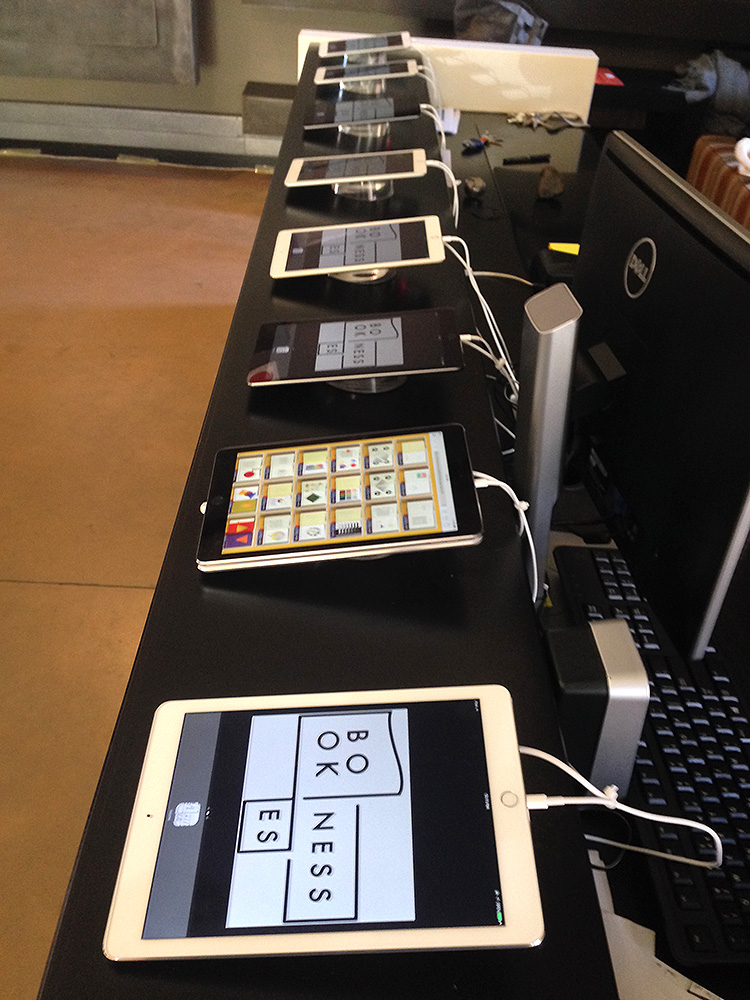 iPads made available in the exhibition space facilitate browsing the selected books, page-by-page online.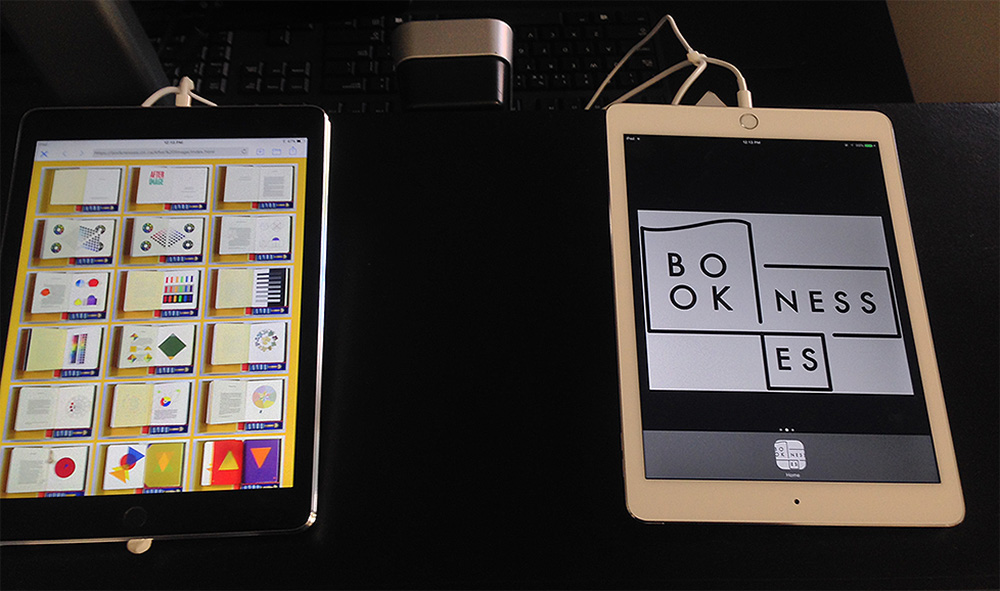 This mode of accessing selected books helps overcome the conventional lack of access to books locked away in glass cases.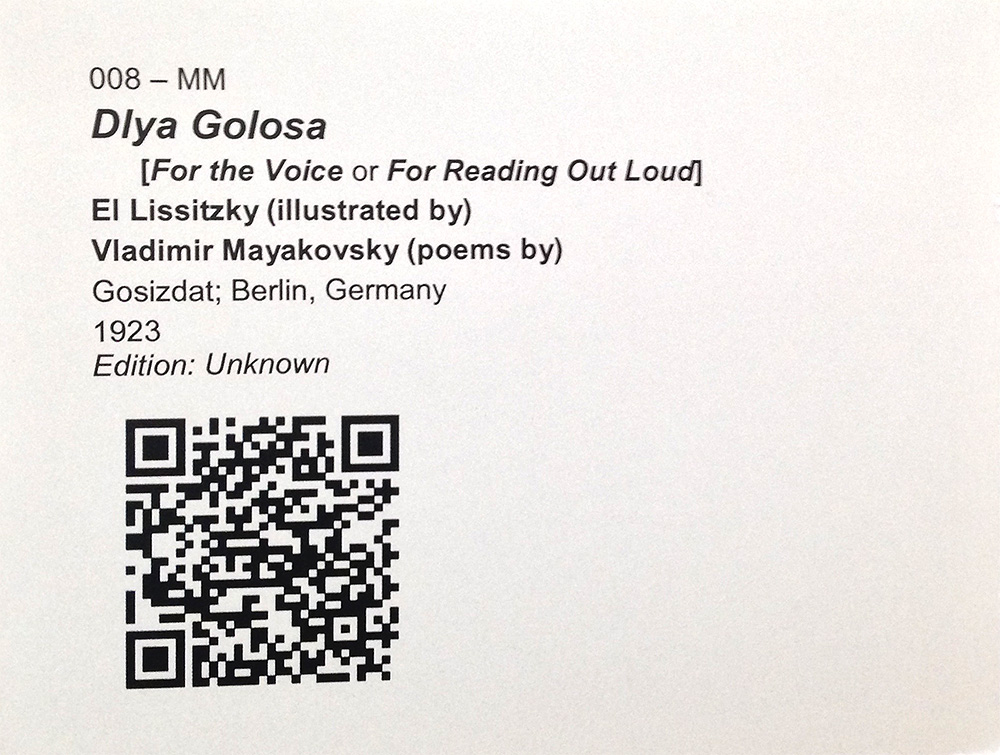 This An example of a QR code which provides an alternative mode of accessing the selected books via visitors' smart phones and tablets.