Opening
Robbin Silverberg's Opening address of the JGCBA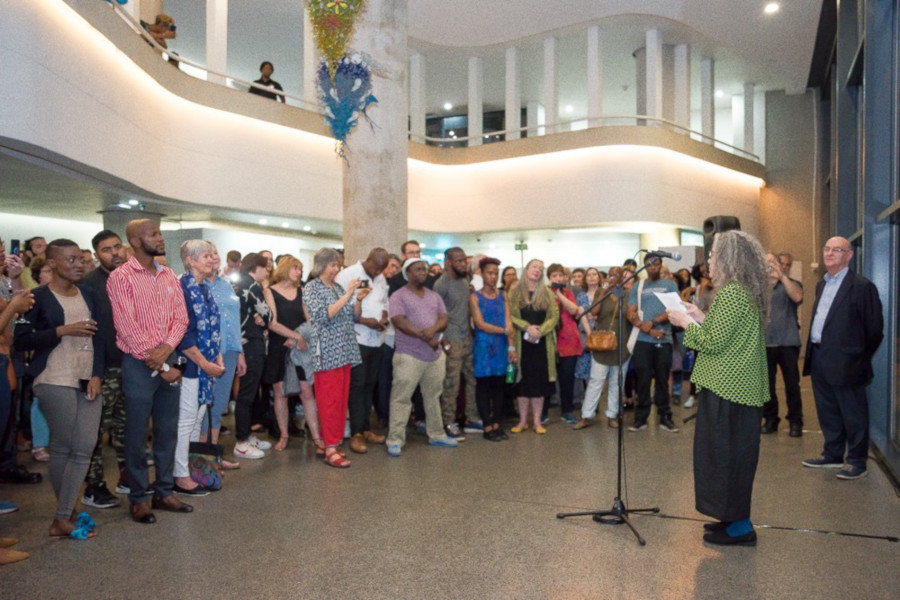 Today we are here to celebrate the beginning of a new chapter: the opening of the Jack Ginsberg Centre for Book Arts, which is an astounding feat of generosity, idealism, & vision.
Starting early from his passion for books & reading, Jack Ginsberg's bibliophile interests spread to include censored books under Apartheid, then, self-published and artist books.
Jack ultimately amassed a world-class book collection, consisting of:
Circa 3000 artist books, 90% from the 1960's to present from countries around the world, but also those that he calls precursors, livre-artiste and the like that make up the other 10%.
He has also collected more than 3,000 books about artist books, which is a comprehensive resource for research & learning.
And a third group of 1000: consisting of graphic novels, pop-ups, zines & monographs about the artists in this collection . . . & 100 books about the history of book illustration.
All these books comprise the collection and Jack has compiled an extensive online database to access it all.
It is extraordinary that an artist book collection of this magnitude and breadth is the result of one man's vision. It is not specious to say (& I've said it before) that there are few private collections in the world as fine as his - a collection that has now become public with the opening of this Centre.
With his usual thoughtfulness and acumen, Jack considered his responsibilities of stewardship of such a collection and had the vision -- with the support of Julia Charlton and others from this wonderful institution, the Wits Museum -- to build this Centre for housing these works -- for study, learning, exchange and exhibition.
This Centre is a gift to the youth of South Africa & to the education of their future.
I've known Jack Ginsberg since 1995, and I am honored to know him all these years. I have been with Jack to look at books, and there's a look that gets in his eyes - the "I've gotta have it" look . . . the hunger of a true collector; it would be fair to say Jack is a bibliomaniac!
But it is also true to say that he is the "Angel of South African art" & this Centre is evidence of his astounding legacy!
As such, I would like to present to Jack a few tokens of gratitude: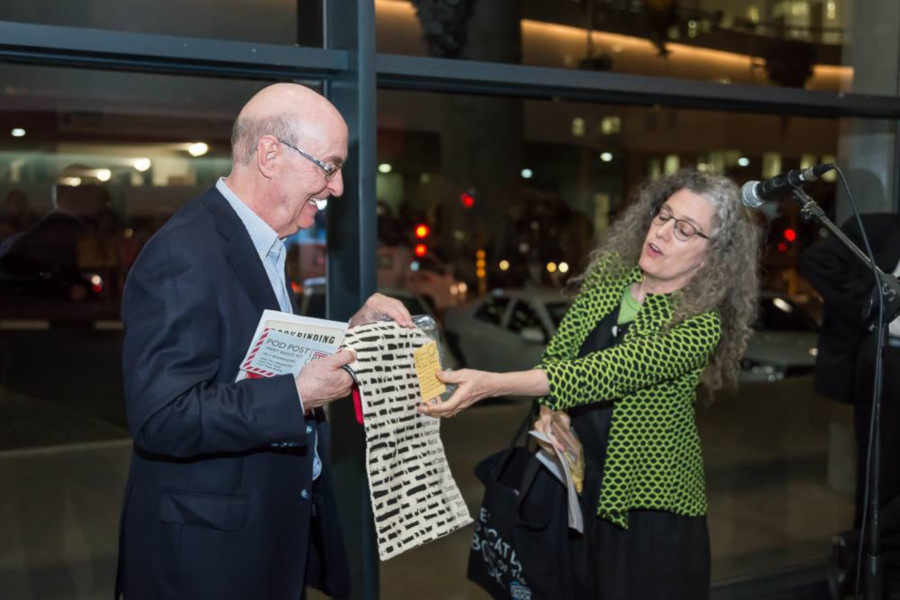 The first of these, with a short explanation:
When I moved from Canada to the US when I was young, my parents wanted us children to 'Americanize' so we all had to attend girl scouts (an organization that promoted - and I quote: character, outdoor activities, good citizenship, and service to others).
To be honest, I didn't last through the first year - I was asked to leave because I had bad morale. I had little interest in participating in the various projects that girl scouts did, which were done in order to win merit badges, small machine embroidered circles we would have to sew onto our sashes. Ten-year-old Robbin didn't care much for them mainly because I preferred to read.
If I had only been a boy scout!!!
Why? Because boy scouts worked towards merit badges for far more interesting activities, which included bookbinding and book-related projects (unlike us girls who did baking, cookie sales & the like)! From 1928 until discontinued in 1986, 391,054 bookbinding badges were awarded in the US . . . under the mission of developing today's youth to become tomorrow's leaders.
So, Jack, ifyou could come up, I bring to you a 1940's boys scout's pamphlet about bookbinding merit badges, (and I did find a merit badge for you on EBay but it seems to have been lost in the mail) . . . so here's a newer set of bookbinding badges!
In addition, I'd like to present to you a tote bag printed with the names of censored books, in honor of your commitment to freedom of speech & uncensored knowledge.
And, finally, library card socks . . . (yellow, of course to match the beautiful drawers of the Centre)!
Now you are ready for your new Jack Ginsberg Centre for Book Art!
Thank you!
We all thank you!
Robbin Ami Silverberg (born 1958) is an American/Canadian artist specializing in artists' books. As a Professor at Pratt Institute, founder of both Dobbin Mill, a hand-papermaking studio, and Dobbin Books, an artists' book studio, in Brooklyn, New York City, Robbin has created a great number of artists' books, both on her own and in collaboration with other artists in the U.S., Canada, Europe, and South Africa.