Jack Ginsberg and his Collections of and about Artists' Books
From the time I started collecting Artists' Books over forty years ago, I also started collecting anything I could find on the history of the subject. What I will call the Bibliographic Collection, at times grew even faster than the actual collection of Artists' Books until the Bibliographic Collection now numbers over 2500 items.
For as long as I can remember I was surrounded by books but I was in my twenties when I saw my first artist's book and I was hooked! They represented an amalgam of three of my interests at that time: art history, books and sculpture. I was born with the collecting gene and before artists' books I had already assembled collections of books dealing with, inter alia, pop-ups, limericks, art monographs with an emphasis on sculpture, South African art and, during the dark political years in South Africa, freedom of speech and its converse, censorship. I have continued to collect in these areas but my primary interest is now artists' books.
Knowing of my interest, friends have often asked what artists' books are and I've tried to give a simple answer without getting into the controversies about definition. But the controversies interested me and the Bibliographic Collection developed as a result. As my collection grew and more people came to know about it, I encouraged all those interested not only to look at the artists' books but to browse the Bibliographic Collection too in order to gauge the extent of the subject. In recent years I have had many (often international) visitors whose major interest is in the Bibliographic Collection rather than the artists' books themselves. These were often academics who were writing papers or theses on artists' books and my collection gave them access to a large literature on the subject which would be difficult to see in a public library where such items would likely be scattered over many locations and thus be difficult to peruse in a short time.
Because my collection is, to my knowledge, the only one of its sort in Africa, I have a large number of visitors wishing to see it. I show students interested in art, design, architecture, sculpture, printmaking and advertising who have often only vaguely heard of artists' books and are curious to know more. In recent years since the art schools have begun to incorporate some of the book making arts into the curriculum, this has increased. They want to see structure, different media, binding techniques, paper, marbling, typography and all the other things which contribute to the book arts.
Anyone who has worked on a bibliography must have at the back of their mind the old retired English clergy who spent their retirement years in compiling concordances: Shakespeare, the Bible, virtually all the romantic poets and latterly Ulysses and even Finnegans Wake. These long hours spent with handwritten lists and cards have now been totally replaced by digital search. One wonders how long it will be before bibliographies will become totally redundant as the digital revolution develops. www.archive.org - the non-profit digital library, provides free universal access to books, movies, music and much more and I understand is digitising books at the rate of over 1500 a day. It would take them less than a day to digitize the entire Bibliographic Collection and that would give access not to the bibliography but to every page of the Bibliographic Collection. [Many of the publications are exhibition catalogues etc. which are much shorter than the average book].
The cataloging of books is never time wasted though. There is no better way to fully assimilate an artist's book than to catalogue it. And that means not just a superficial Author | Title | Publisher | Date but details of size, shape, paper, binding, materials used, the names of all the collaborators/contributors and often a full replication of the colophon. The colophon in an artist's book is often a heartfelt and sometimes amusing, description of the tribulations involved in the making of the book and what was required to achieve the end result.
This section of the website documents the Collection of International Artists' Books and particulary includes the Bibliography on Artists' Books which has attracted such attention especially from academics and the wider public. It is constantly in development and undergoing revisions and corrections but the bibliography is now out in the world on the web. If you wish to see the actual books, catalogues, monographs, essays etc. described in the bibliography then you will have to visit!
Jack M. Ginsberg
2014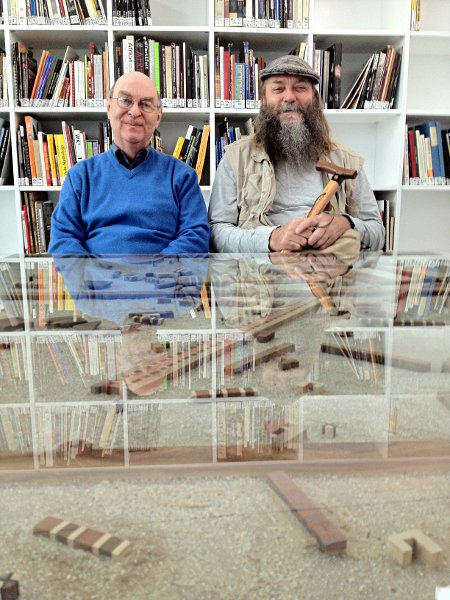 Jack Ginsberg and Williem Boshof sitting at Willem's Druid's Table at Wits Art Museum